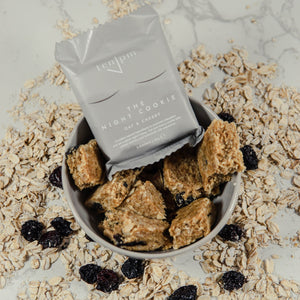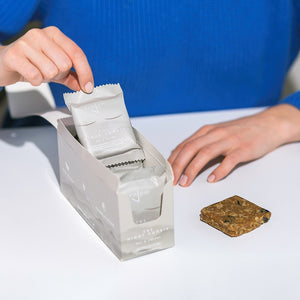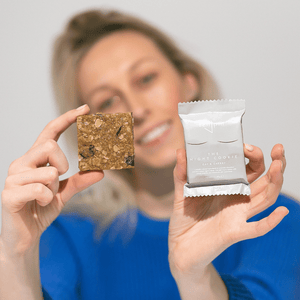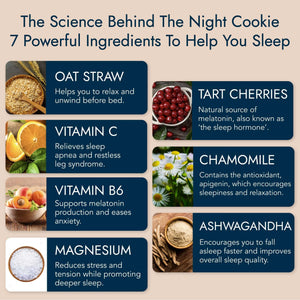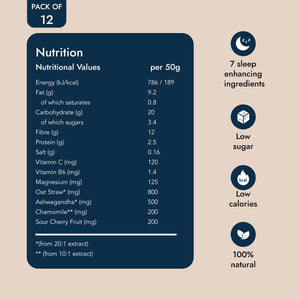 A new kind of cookie that helps you fall asleep
You'll never settle for another bedtime snack again
2X Bigger
Than your average cookie, it's like getting the price of two for one!
Snack Guilt-Free
You'll never feel bad when indulging on this nutritious cookie while watching your favourite TV show.
Soft, Chewy & Delicious
With the combo of oats and cherries - you'll be coming back for more (and more!)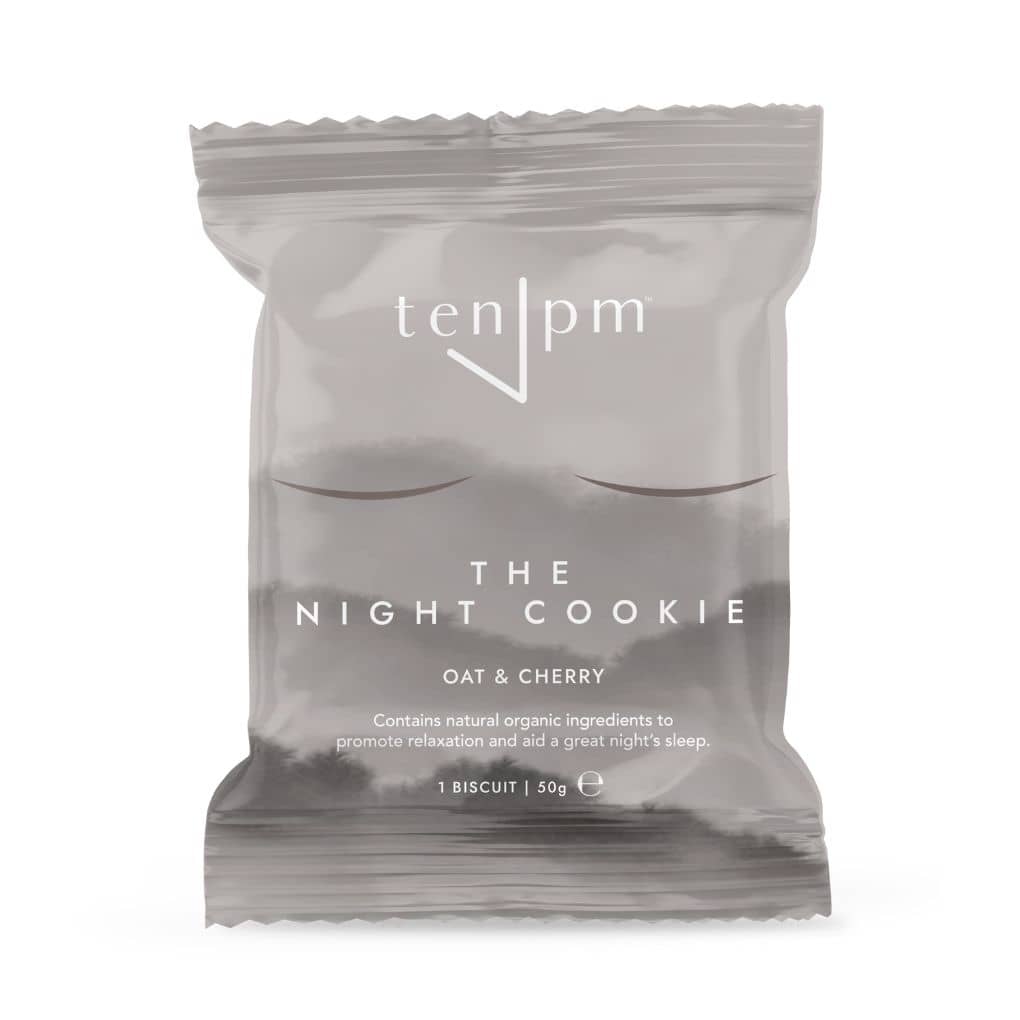 Relax With Every Bite
As the calming properties of ashwagandha and chamomile release tension from your body.
Sleep Better Naturally
With this 100% organic, dairy-free treat that keeps you snoozing all night long.
Wake Up Energised
So you can feel sharp and refreshed and have the energy to do what you love the most.
Don't Take Our Word For It. Just Ask Our Customers!
The Night cookie
Great,stops me wanting to eat later in the evening,feel very calm and relaxed and sleep much better.Ordered 4th batch
Great to hear our cookies are helping your to relax and sleep better Antoinette. They are the perfect substitute to the usual late night snack that so many of us typically go for! Thank you again for your continued custom x
Love these products hope they are all back in stock soon
Delicious!
Delicious to eat just before bedtime - with a comforting night drink too.
Got Questions? We've Got You Covered.
What are the ingredients?

The main sleep-inducing ingredients are ashwagandha, oat straw, tart cherries, chamomile, magnesium, vitamin B6 and vitamin C - our products have high concentrations of each of these!

Full list of ingredients: Dried Cherries (200mg), Vitamin C (120mg), Vitamin B6 (1.4mg), Magnesium (125mg), Oat Straw (800mg), Ashwagandha Root (500mg), Chamomile Flower (200mg), Sour Cherry Fruit Powder, Oat Flour, Wheat Flour, Rapeseed Oil, Jumbo Oats, Chicory Root Fibre, Baking Powder, Sunflower Lecithin (a natural emulsifier to bind our cookies together), Soluble Tapioca Powder (a gluten-free starch extracted from cassava roots), Salt, Xylitol (a natural sugar free sweetener obtained from plants), Natural Flavouring, Glycerine (a natural sweetener made from rapeseed oil)

Allergens: the Oats, Oat Flour, Oat Straw and Wheat Flour contain gluten.
How does it help me sleep?

We took out all the junk you don't want before bed (artificial sugars and empty calories) and used 7 science-backed ingredients that promote better sleep, rather than spiking your sugar levels at night!
How many cookies are included in the pack?

Each pack includes 12 of our 50g cookies (that's way cheaper than a small cup of coffee), so you have plenty of delicious bedtime snacks to help you catch some Zzzs!

Is the night cookie gluten-free?

Unfortunately our cookies are not suitable for those with gluten intolerances or coeliac disease.
How long does it take to get my order?

You're in for a sweet deal when you place an order with us - your goodies will be delivered securely within 2-3 working days, shipping normally costs £3.95 but you get it for FREE when you spend £30 or more.